Hey everyone! Phew...I had a fun weekend! I know it's Wednesday and I'm just posting but I've been busy :) I have some medical testing tomorrow, I don't think I have what I'm being tested for but I am still a teensy bit nervous.
So last Friday my mom and I took the girlies to a Farmer's Market & Pumpkin Patch which ended up having a small carnival area. There were a few rides and games with the crazy carnies yelling even though you're like 4 feet away from them. It was interesting. We started by taking pictures with the different monsters in the pumpkin patch,then on the first game my oldest Kaylen won a fish on her first try! They rode a ride with Grandma, had some cotton candy, went down the very tall slide and then ended the night with one last ride just Olivia and Kaylen. It really was so much fun! Here is some of our night of fun!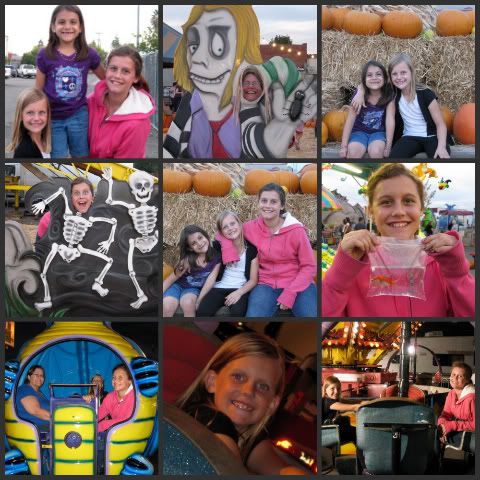 Oh what a night! The girls, grandma and I had so much fun we hope it's there this Friday :)
Then Saturday my two youngest wanted to have a picnic, which to be honest didn't sound like it would be a lot of fun, but it ended up being great! It was a pretty healthy picnic, filled with veggies and apple slices, I am trying to eat healthier. We had hummus for the first time Friday at the Farmer's Market and Liv and I wish we would have tried it sooner! Now I have two things of hummus for snaking. Here's a couple of picnic photos.
Liv and Bella enjoying all the yummy food! They especially liked the Jello :)
Our Sunday was spent relaxing after a busy weekend. I now have a fish that they hope will live forever, great huh?! But I look forward to this weekend, Kay has decided we are going back :) I love going to carnivals, parks or even just playing in the backyard with my kiddies. They grow so fast! With such a small amount of time with my two oldest now, thanks to my ex, every minute is precious. So I hope this Friday is just as fun, I have a few things planned. If anyone has any suggestions about October crafts or Halloween crafts I would appreciate it, I am always looking for new things to do with my kiddies. Have a great day!