I love this time of the year, the weather is becoming cooler, it's starting to get dark earlier and all my favorite holidays decorations come out. But my most favorite reason for this time of the year is the baking. I love to bake. I like the way the house smells for hours afterwards, and then watching each of my family member's faces as they bite into my creations. Making food is one way of showing my family love but when I bake I put in a little bit of extra love. I am not the best baker but I know I am not the worse either, I take pride in the items that turn out really good. And my latest item was one of those really good ones. Here's what happen....

I was fortunate that the
Nielsen-Massey Vanillas
company sent me a bottle of their Madagascar Bourbon Pure Vanilla Bean Paste to try.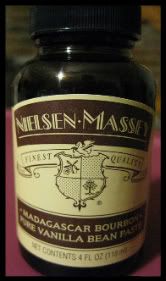 The company has been dedicated to making the purest vanillas since 1907. Their company offers vanillas in the form of extract, powder, sugar, paste and bean.
Nielsen-Massey Vanillas
also offers many other flavors of extracts.
Nielsen-Massey Vanillas
was awarded gold winner of the 2011 NASFT sofi, NASFT stands for the National Association for the Specialty Food Trade, this award was given for the Madagascar Bourbon Pure Vanilla Bean Paste. The website for
Nielsen-Massey Vanillas
is filled with information about vanilla, the history of vanilla as well as some fun facts about it. There are also some great sounding recipes available to everyone.
When I first got my bottle I was going to make everything from scratch, but then I realized that many of us are so busy these days that making everything from scratch is not always possible. So I took a box of white cake mix and made it according to the directions on the box, but spruced it up with my Pure Vanilla Bean Paste. I added about a tablespoon to the mix. So making my cupcakes was simple and they smelled delicious baking. While the cupcakes were in the oven I decided to make my frosting from scratch here is the recipe:
Madagascar Bourbon Vanilla Bean Cream Cheese Frosting
8 to 10 ounces of cream cheese, room temperature
1 cube of unsalted butter, room temperature
1½ to 2 cups of powdered sugar, sifted
½ to 1 teaspoon of Nielsen-Massey Vanillas Madagascar Bourbon Pure Vanilla Bean Paste
½ teaspoon of brown sugar
This is a simple recipe of just mixing everything together one at a time. The recipe is very flexible, if it seems too thick you can add just tiny bit of milk, if it seems too thin you can add more powdered sugar. I added more than a teaspoon of vanilla bean paste, but that is because I really liked the flavor it gave and you could really smell the vanilla in the frosting. Here is a picture of me adding the paste and a close up of the paste, you can really see the seeds, or "caviar":
Once the cupcakes cooled and the frosting was added, these were by the far the best tasting cupcakes I had ever made! The pure vanilla bean paste really made a HUGE difference in the frosting. I have made this frosting before with a pure vanilla extract but it just tasted sweet from the sugar, the frosting with the paste was more complex you could actually taste the vanilla. You don't have to be a baker to use the Madagascar Bourbon Pure Vanilla Bean Paste, seriously anyone can take a teaspoon and add this to anything that calls for vanilla extract. On the bottle there is the measurements of the paste in place of extract for your recipes, as well as how much paste you would use for a vanilla bean itself. What a great idea, so helpful! In my opinion this is a wonderful product, I will use again and again!!
Here are some photos of my finished cupcakes:

And now for the
good part for all of you!
Nielsen-Massey Vanillas
has offered one bottle of their Madagascar Bourbon Pure Vanilla Bean Paste to one of my followers! To enter the giveaway follow the instructions on the Rafflecopter.
~I did not receive any

financial

compensation for this review. I did receive and review the product for evaluation purposes. The opinions are based only on my experiences with the product.~