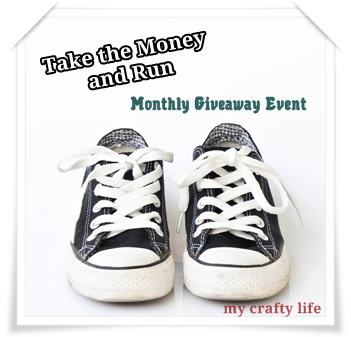 Be part of the first Take the Money and Run Give Away Event!
Hosted by My Crafty Life
These events are an awesome way of gaining new followers and giving away a great prize to your readers!
Benefits in participating in this event:
Easy on the budget- at only $3 for a social media link- it's very affordable way to get your site out there!

It's monthly so it won't be too much work, only participate when you want.
You pick the link you want to advertise.
You are the sponsor. No worrying about sponsor's requirements.
New to giveaways? This is an easy way to get your feet wet! Most of the work is done for you.
---
How to participate:
---
I am hoping to get 25 participants so we can offer a $50 prize.
Sign ups will end February 1st
. Prize will depend on total number of participants. Please feel free to share this with other bloggers!