When I was a young girl wearing a bra never bothered me much. It wasn't until I was pregnant with my first child that bra's started to irritate and hurt after a full day of wearing one. I had gone up two cup sizes, not to mention going up in the size around too! And now after three daughters I hate to wear a bra. I only wear one if I have to, which usually means when I am leaving the house, or someone is coming over. I had never heard of a bra liner until I heard about Pambra's Bra Liners, I know that sounds silly, but honestly I had never heard of one.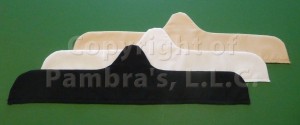 So when I received my bra liners, which come in packs of three, I was so ecstatic to try one. They come in sizes small to 2X, and in three different colors. I chose the white but I hope to order the black in the future. Putting one on was simple especially since I watched the how-to video. Pambra's Bra Liner is like a light pillow under your bra, I never felt uncomfortable having it there. I actually forget that it is there. And now wearing my bra has become easier to handle. Since I am plus size the under-wire tends to dig into me so having the Pambra's Bra Liner there prevented that from happening too. Pambra's has liners for those who have had a mastectomy and also carries tummy liners.
My mom received Pambra's Bra Liners as well and she had a little difficulty putting hers on, I believe it was because she ordered hers in a size too large. She is suppose to try one of mine but has not as of today. I am not going to give up on her just yet! I know once she feels how comfortable these are she will want to wear it all the time as well!
To learn more about Pambra's Bra and Tummy Liners, or to purchase your own, you can visit their site at Pambras.com, or "Like" them on Facebook and follow the on Twitter. Pambra's also has their own blog at
http://pambras.blogspot.com/.

Thank you Pambra's for making such a great product!
*Disclosure: Please note that I received product in order to conduct a review. No other monetary compensation was provided. All opinions in this post are 100% my own.