My children have enjoyed playing with HEXBUG's for a few years now. HEXBUG's are micro robotic creatures. Our only experience with HEXBUG was when I bought my sons their first HEXBUG Nano's along with the track so that they could build a network for their bugs. It was fun to watch the Nano bugs bump there way through the tracks. More recently I had seen the newest bugs that have been added into the HEXBUG family. So after contacting the company I was so happy that they were willing to send me two bugs to review.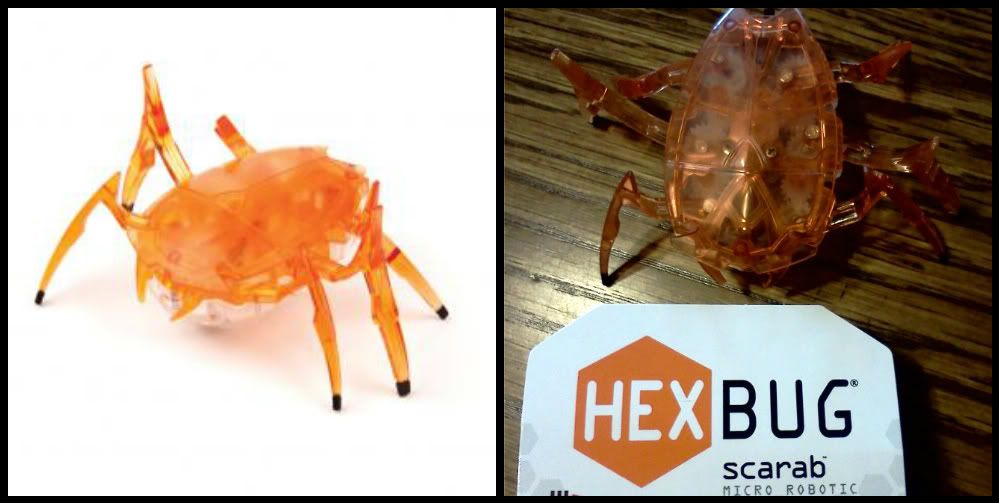 I received the Scarab and the Larva and have had fun with them since! The Larva was a little surprising on how much fun it actually is. Looking at it you wouldn't think that it would do much, but looks can be deceiving. The Larva scoots around but has a sensor on the front so whenever it senses something in front of it then it will change it's direction. Now if you have cats I highly recommend showing them the Larva and watch their reaction to it. My whole family, Grandma and Grandpa included, have got a kick out of watching the Larva scoot around as well as watch my cats with it.
Now the Scarab is a whole other story. This is a toy that you will get a lot of enjoyment from. The Scarab scurries around so quickly and if it somehow gets flipped over on its back it will flip back over on its own. The Scarab moves so fast that it literally made my six year old scared to pick it up to turn it off. She knew it was not real but it still was kind of creepy, but in a very cool way. I absolutely LOVED watching my cats watch the Scarab flit around and try to catch the bug.
HEXBUG carries other great micro robotic creatures that you can find and purchase on the HEXBUG website. They also have been generous to offer a Larva HEXBUG to giveaway! That's right one of you will be the lucky winner of a Larva and have as much fun as I have had.
*Disclosure: Please note that I received product in order to conduct a review. No other monetary compensation was provided. All opinions in this post are 100% my own.
a Rafflecopter giveaway