For years my kids have loved to play with K'NEX and when I was contacted about reviewing their products I was so excited. As a kid at heart I love to play with toys and I love watching my kids play with toys too. When we got the package my eight year old daughter ripped into it. We received the Cosmic Twist Coaster and four of the Collect & Build Xtreme Ops Series sets, Mission: Elite Patrol, Mission: Elite Command, Mission: Urban Resistance, and Mission: Urban Force.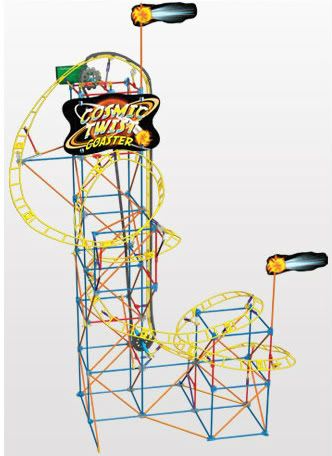 The Cosmic Twist Coaster came with color coded pieces and picture instructions making the process of putting it together a little easier. I wish I had actual pictures but I wasn't thinking at the time and now it's been torn done to put it away. The Cosmic Twist Coaster has over 19ft of track and over 600 pieces to build a coaster that is over three and a half feet tall. This particular coaster is recommended for age nine and up. My sons have gotten K'NEX toys for years now and this is actually their second coaster.

The Collect & Build Xtreme Ops Mission sets are really cool to build too. You can also put two certain sets together and make a Combo Build. The four Xtreme Ops we received from Elite & Urban series are not yet on the K'NEX website to purchase but they do have the Artic, Fireforce, Jungle and Desert series. Each set has between 60 to over 100 pieces, depending on which set you pick. The Collect & Build series is recommended for ages five and up, but the Elite and Urban sets are recommended for seven and up.
I look forward to building more sets with my kids, they really enjoy building and taking them apart over and over again. My eight year old daughter likes to build unique pieces of K'NEX art. Next time I will have my camera ready to go! K'NEX has so many wonderful products to choose from and really they are for the whole family not just for the kids!
*Disclosure: Please note that I received product in order to conduct a review. No other monetary compensation was provided. All opinions in this post are 100% my own. Thank you K'NEX for this very cool opportunity!